Dr. Avni is Hamsa honoree
Our coordinoator Dr. Dorit Avni from MIGAL is Hamsa honoree. She was awarded the price as a toke of appreciation for winning an EU grant for the Algae4IBD project. The award ceremony took place at the Peres Center for Peace and Innovation on May 2022.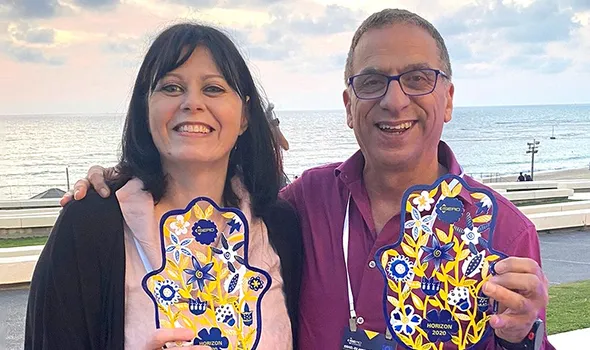 Dr. Dorit Avni, researcher at MIGAL and coordinator of Algae4IBD and Mr. David Zigdon, CEO from MIGAL.
It all started in Dr. Avni's lab
The Horizon 2020 funding scheme that Dr. Avni applied for with Algae4IBD opened in 2019: "Prospecting aquatic and terrestrial natural biological resources for biologically active compounds (FNR-11-2020)". This coincided with exciting results in her lab where they work with algae.
"We found interesting compounds from different algae that could have a higher anti-inflammatory effect than standard treatments like steroid-based treatment. When Horizon 2020 launched this specific call, I thought it could be a perfect opportunity to combine different specialist from different fields: algae, IBD, pain and inflammation."
Dr. Avni initiated the project. She summoned experts from 11 different countries and they applied for the grant, which was highly competitive. Only four projects were chosen from the EU to receive funding. One of them was Algae4IBD.
"That was very exciting to me because I'm working on inflammatory based diseases and would like to find something that eases the pain or at least relieve the symptoms of patients. With joint forces for four years, we definitely can provide the research base that will bring us either functional food or even novel pharmaceutical treatment."